There are 52 different achievements available as per July 2015. Each will give you some FOB-points when fulfilled, in addition to the sense of completion.
Free achievements
Edit
Name
Description
FOB awarded

Bunker master

Fuel one of your vessels
1
Vessel Purchase
Buy a vessel
2
Global Adjustment
Perform load balancing on your vessels
2
Welcome to the market
Buy a share
2
Deer of the stock market
Buy 50 000 shares
x
I have questions
Read the FAQ
2
How about privacy
Read the privacy policy
2
Godspeed
Start a route
3
Financial report
Release your financial report to the public
x
Buy my stock
Advertise your company
x
Welcome Aboard
Manually hire new staff
x
Bird rescue
Earned for reviving the seagull ((See "Spoilers"))
3
Wolf of the stock market
Have 200,000 shares in the same company
x
Ready to sail
Create a shipping route
3
People Pleaser
Have a total staff efficiency of 100%
x
Bigger Payday
Give your employees a pay raise
x
Stock sold
Sell a share in your company
x
Not good enough
Give a successful staff reprimand
x
Terms
Read the TOS
5
Vessels need fuel
Buy 500 000 tonnes of bunker fuel in one purchase
10
Get that seagull
A seagull is following your vessel.

What do you do? (See "Spoilers")

15
Easter Egg
What do you say to tax collectors ? (See "Spoilers")
15
Attractive Shares
Reach a share value of $10
1
Money Maker
Have 50 million dollars in your account
2
More vessels
Have more than 5 vessels
x
Big Planning
Earned when you have more than 15 vessels and need to plan maintenance
2
Fleet is in
Have more than 50 vessels
3
People Person
Have more than 500 crew members
3
Looking like a fleet
Have more than 10 vessels
3
Invest invest invest
Reach a share value of $100
3
Profit are us
Have 100 million dollars in your account
4
Don't want it
Sell a boat
5
Expanding
Reach a share value of 1000
x
Pride of the sea
Have more than 100 vessels
5
Shipping stuff
Ship more than 1 000 000 000 Tonnes
5

More points

Have more than 1000 FOB Points
x
Points
Have more than 500 FOB Points
5
Huge Vessel
Purchase the largest vessel with all available options
5
Making money sailing
Have 500 million dollars in your account
6
Business is good
Reach a share value of $20 000
x
Buy what you want
Have 1 billion dollars in your account
8
Lord of the sea
Reach a share value of $50 000
x
Custom made
Buy a custom made ship
10
A pirates life
Completed pirate negotiations
10
One of the best
Reach top ten on the leaderboard
x
There can be only one
Reach first place on the leaderboard
x
Achievements for spending FOBs Edit
| | | |
| --- | --- | --- |
| Name | Description | FOB award |
| Auto Fueling | When you have purchased the auto fueling option | 4 |
| Rebranding | Change your company name | x |
| More investments, more money | Increase your investment limit | x |
| Moving day | Change your company location | x |
| Lazy Shipper | Install auto fuel purchasing on your vessels | x |
| License to build | Obtain the custom oil tanker license | 4 |
| | | x |
| | | x |
Spoilers
Edit
Spoilers, but if you get stuck...
Sea gull: Shoot the sea gull flying on the top left picture of a ship. Then go to the FAQ and read under "Q: Can I bring back the seagull". It might take several attempts with a few days between to make it work.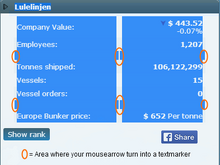 Easter egg: Click anywhere you can get a text marker instead of the usual mouse pointer (for instance in the right box with company info in Overview, or on High Score). Then type "goaway" and hit enter.
Ad blocker interference detected!
Wikia is a free-to-use site that makes money from advertising. We have a modified experience for viewers using ad blockers

Wikia is not accessible if you've made further modifications. Remove the custom ad blocker rule(s) and the page will load as expected.